Newport  ReStore5898 Hwy 70 West

Phone:    252-223-4493

Monday – Saturday 9am – 4 pm

Closed Sunday

The Jacksonville ReStore

1200 Gum Branch Rd

Phone:   910-347-9400

Monday – Friday 10am – 5pm

Saturday 9am – 4pm

Closed Sunday

Visit Jacksonville ReStore Site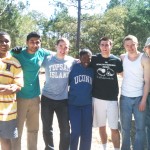 Students from Gramercy Christian School volunteered on Saturday, March 9th to help with landscaping  at 242 Oscar Hill Road.
WOMEN'S BUILD 2013  May 7, 2013 at 135 Quail Point Drive
Ladies from Lowes and Crystal Coast Habitat and other community businesses put down their pens and picked up hammers for a day of building at the Essary Family Habitat Home.  Many thanks to Wendy's for providing lunch.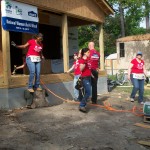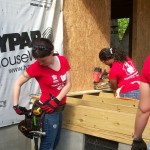 Students from the ROTC Group from West Carteret saved the day when they came to the Habitat office and completed a 2500 piece mailing in two days… GREAT JOB!! Many thanks.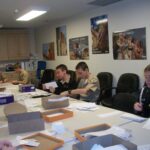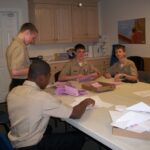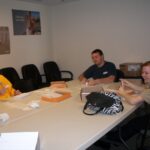 On Thursday, March 7th the Marines volunteered at 238 Oscar Hill Road in Newport.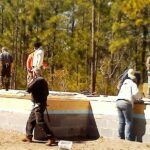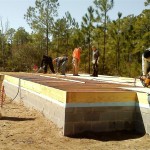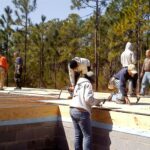 On Jan. 26, 2012 The Marines came out and sided Old Mill Road for the Simons Family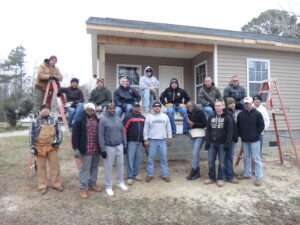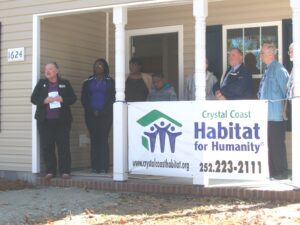 The Home Dedication with Kris Durham, Executive Director, Matilda Ellison-Jones & her family along with some Board Members at the Home Dedication.  We would like to thank all those who helped make this build a success.  Thank you to our donors, sponsors & volunteers.  With out you we couldn't have done it.  A special thank you to Jason Nelson of Atlantic Construction for supervising this build, and all the volunteers who worked deligently to have Matilda and her family in their new Habitat home for the holidays.
2012 – 2013 Board of Directors
President:  William Avon – William Avon Insurance Morehead City
Vice President:  Frank Kivett -  Broker Kivett's Happy House Realty Morehead City
Treasurer:  Steve Moody – Ret. Nationwide Ins. H.R.
Secretary – Kellie Dunne - Student
Jay Ahlquist, Jr. –  V.P. Marketing 1st Citizens Bank Swansboro
Laura Bader –  Freelance Copyeditor
Stephen C. Finch – Ret. Electrical Contractor
Julie Glanzer - Attorney, Beswick & Goines Morehead City
Ronald Gonzalez, Sr. – Ret. Post Master, owns Const. Company
George Henderson – Ret. NY Dept. Soc. Services
Ezekiel Murrell, Jr. – Pastor, Great Joy Worship Center Beaufort
Janet Morgan – Ret. Teacher
Charles Pearson – Resource Ctr. Mgr., Marine Fed. C.U. Jacksonville
Patrick Shaheen – Ret. Engineer Cummings Co.
Neva Tucker – Teacher, Jacksonville Montessori Children's School
Luther E. Tootle, Jr. – Ret. US Gov. Mgr. Air Craft Mech. Repairs
Cecilia Watson – Construction, Real Estate & Auctions
Brian Zane – Retired Chief One Officer USCG
Collegiate Challenge 2013 Students from Baldwin-Wallace University and Purdue University arrived on Sunday, March 10th they  were welcomed with a dinner at Moore's Chapel in Newport.  We look forward with a productive week with these outstanding students.
Students working hard at the 1300 Fisher Street, Morehead City Habitat site.
Donations:
We would like to thank the following businesses, churches and individuals who have donated to the Crystal Coast Habitat for Humanity for the month of April:   First Presbyterian Church, Bethlehem United Methodist Church, St. Peter's by the Sea Episcopal Church, St. Paul's Episcopal Church, All Saints Anglican, Cape Carteret Presbyterian Church, Blue Creek Baptist Church, God's City of Refuge, First United Methodist Church, Silver Creek Free Will Baptist, Shepherd of the Sea Lutheran, First Baptist Church, Ann Street United Methodist Church, Emerald Isle Baptist Church, First Baptist Church, Beaufort Original Free Will Baptist, Moore's Chapel Missionary Baptist,  Mt. Zion Missionary Baptist Church, Mt. Tabor Missionary Baptist Church, Sandy Run Missionary Baptist Church, Trinity United Methodist Church, St., First Presbyterian Women's Group, St. Peter's United Methodist Church, St. Francis by the Sea Episcopal Church, River of Life Church, Living Hope Community Church, Christina Garrett, Shepard Floors, Inc., Hadley Olde Towne, Piggly Wiggly #57, Lowes Home Improvement, Steve & Debrah Ryan, Christopher McKittrick, Amanda Schwenke, Leigh Wilkinson, Sunshine Lady Foundation.
Volunteer hours for the month of April was 1668.  Thank you to all of you who donated your time, without you we would not be a success. We apologize if there is anyone we missed.  Please contact the office at 252-223-2111 so that we can make the correction.
Homeownership:
Families selected into the partnership home building program must meet certain income criteria and residency requirements. Habitat families earn 400 or more sweat equity hours on their home and other Habitat projects and complete homeowner education courses. They receive a 0% mortgage on the cost to build their home that they must pay back over a period of up to 30 years. Current homes cost around $100,000 according to land availability, size of the home and the cost of construction.
During the past two years, Crystal Coast Habitat has earned the prestigious US EPA Energy Star Certification on ten homes. This means that the energy bills on a four-bedroom home are guaranteed to be less than $35 per month, and $27 per month on a three-bedroom, keeping these Habitat homes affordable.
---
Habitat homes are built with volunteer labor, using as much donated materials and land whenever possible.
Homeowners are carefully selected and must:

Have a housing  need
Meet our income guidelines, and be able to pay a 0% mortgage payment on the cost to build their home.
Have a plan to complete 400 hours of sweat equity work on their home and other habitat projects.

Materials and costs to build a Habitat house, including land are established after construction.  A typical Mortgage is around $100,000.
No interest is charged on the homeowner's mortgage loan. Terms are based on what that person can afford to pay. A typical Habitat mortgage is 30 years.
For more information on the home partnership program or to learn more about ways to volunteer, call the Habitat corporate office at 252.223.2111.  Donations and purchases made at the Habitat ReStores help buy materials to build Habitat homes and eliminate excess waste going to our landfills.  Visit the Newport and Jacksonville Habitat ReStores and help eliminate poverty housing along the Crystal Coast! Call 252-223-4493 Newport ReStore to schedule a donation pickup.